Monday
We were greeted in song "Welcome to Petals." The students, teachers, administrators and staff all greeted us around the flagpole in prayer, in song, in welcome. A very special feeling came over all of us. Synergy.
We quickly unloaded donations and became familiar with the campus. The youth began playing soccer at the first break of school. The youth then began repainting the monument entry sign. Lunch for us was prepared alongside Lilian, the Headmistress. One of the tasks was sorting beans. Lunch was delicious.
As one youth expressed "It was so great to see Lilian in her environment as Head Mistress, teacher, mother. And, how good it is to have time to get to know her husband and Administrator, Fred."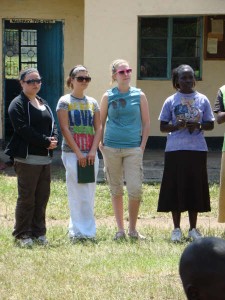 One of the new expressions near the school which we walked to is a police station. It will be occupied in two weeks, and it overlooks the school and brings harmony and peacekeeping to the borders of the two tribes whose children attend the school.
In days to come we will share the first pictures of the contruction of the bridge.